Nabil Anani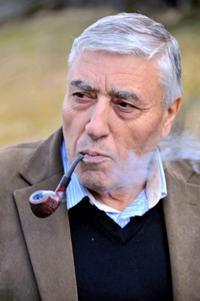 Nabil Anani
Nabil Anani (b.1943, Latroun, Palestine) is one of the most prominent Palestinian artists working today. He is considered by many as a key founder of the contemporary Palestinian art movement.
On graduating in Fine Art from Alexandra University, Egypt [in 1969], Anani returned to his native Palestine and began a fruitful career as an artist and a teacher trainer at the UN training college in Ramallah. Anani held his first exhibition in Jerusalem in 1972 and has since exhibited widely in Europe, North America, the Middle East, North Africa and Japan – both as an individual artist and with groups of his Palestinian contemporaries.
Anani is a multi-talented artist, for he is a painter, a ceramicist and a sculptor. He pioneered the use of local media such as leather, henna, natural dyes, papier-mâché, wood, beads and copper. Over the past four decades, Anani has built an impressive catalogue of outstanding, innovative and unique art.
Anani was awarded the first Palestinian National Prize for Visual Art in 1997 and became the head of the League of Palestinian Artists in 1998. On retiring from his teaching post in 2003, Anani has dedicated much of his time to voluntary pastimes, leading on the League's activities and playing a key role in the establishment of the first International Academy of Fine Art in Palestine (with the assistance of the University of Oslo and the Norwegian Ministry of Foreign Affairs.)
First Name

Nabil

Surname

Anani

Associated Events